Grey and Blue Kitchen
Here, we have a handleless kitchen that has been designed with modern living in mind. The client was seeking a unique kitchen design that would make efficient use of the space available, whilst offering a high level of functionality and style.
The minimalistic design we developed with the client boasts contemporary cabinets in the colour supermat dust grey, brass Gola rails, solid quartz counters and a large number of integrated appliances to make working in this kitchen feel like a dream.
Within the space of just a few weeks, we transformed this kitchen from a cluttered and difficult-to-use space to a kitchen that now boasts much aesthetic appeal, style and functionality.

Request A Quote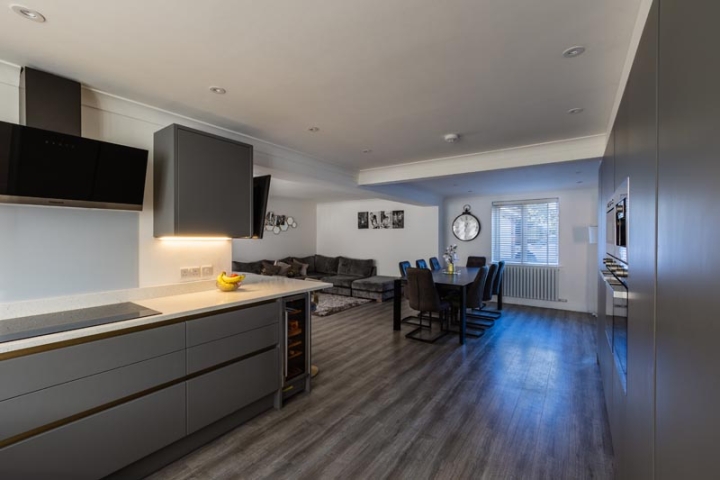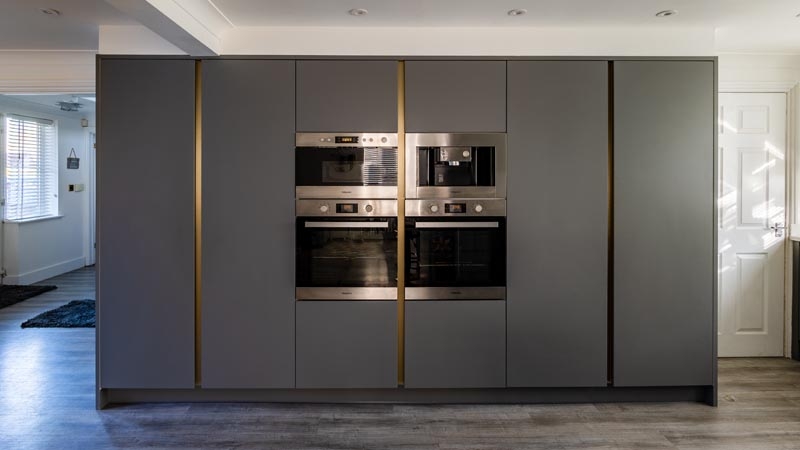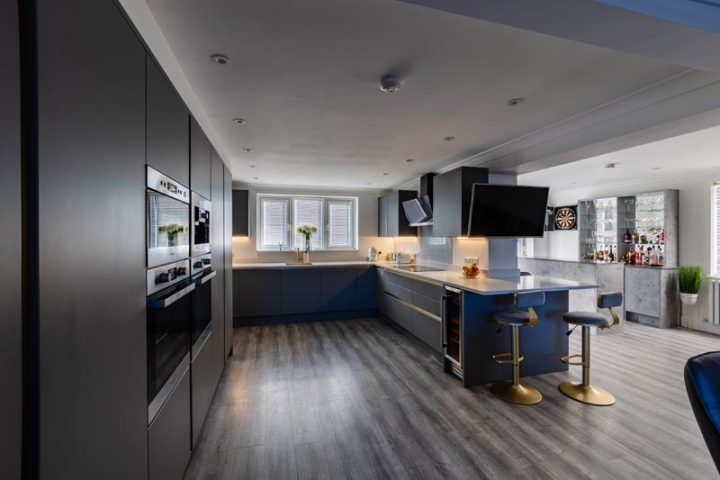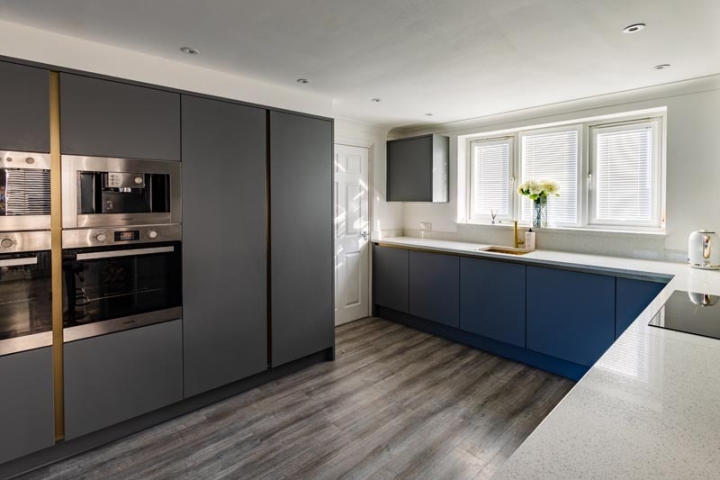 Quartz
A Gola rail system is a system that enables cupboards and drawers to be opened without any handles. It makes for easier cleaning and gives the cabinetry a sleek finish. We have four standard colours available – black, copper, stainless steel and brass. Alternatively, we can spray paint the rails in any colour, ensuring your Gola rails will be in keeping with the colour scheme of your choice.
The client opted for a brass Gola rail system, as it not only harmonised with the dark grey cabinetry, but matched the stunning brass sinks and taps that we installed.
Open Plan
The kitchen counters and upstands were crafted from a 30mm solid quartz called "White Reflection". As the name would suggest, this beautiful stone has built-in flecks that reflect light, giving the room an open and airy feel. In order to make best use of the space available, we installed a number of integrated appliances.
This kitchen benefits from two double-ovens, a microwave, a coffee machine, a tall fridge/freezer, a dishwasher and an induction hob. Navigating around this kitchen feels easy and the appliances offer the client the optimum amount of functionality.
Get In touch
If you would like to set our highly skilled and experienced craftsmen to work, then please give the team a call today on 01508 481888 and arrange an appointment with our in-house kitchen designer.